Posted on | June 26, 2012 | No Comments
as written July 4, 2011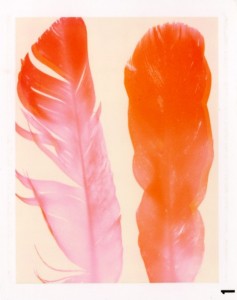 Something interesting I learned about feathers today…Dancing Feather has new meaning today because of this. I love it.
Do you think their feathers are fragile? In Sy Montgomery's brilliant book, Birdology, I read: "Feathers are among the most complex structural organs found in nature. Nothing of comparable dimension is stronger. They are made of keratin, the same as human's fingernails, a horse's hooves, and a rhino's horn — but the keratin in feathers, due to a difference in molecular structure, is even tougher.
'Caught in the feathers, air gives birds their warmth and their flight; in hummingbirds, air even gives them their color. Their jewel-like radiance- emerald, ruby amethyst — comes not from pigment, as in most bird's feathers, but from air.' It seems that the top third of a hummingbird's feathers (not the flight feathers of wings and tail) are filled with tiny tiny air bubbles. The shape of these bubbles and the amount of air in them influence the color seen."
I am a lot tougher than I appear.
My apparent…fragility…beauty…vulnerability…sensitivity…can be misleading to those who associate strength with granite walls and metal edges and brawn.
Stone can't fly.
But I can.
I have faith in my own feathers.
Comments