Posted on | July 2, 2012 | No Comments
as written over a decade ago (about something written for me, and me to him, by my dear friend O, when I was twenty-one years old). Purging old email inboxes, I've stumbled across some keepers. This is one of them.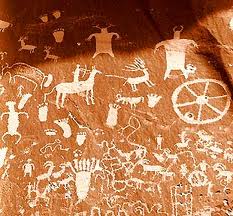 So. Since I tend to write with nothing but colors swirling in my mind; try to create painting on paper with nothing but words – I am often misunderstood. But that's okay, because my purpose here (our purpose here) is not to be understood. Our purpose is to create, is to express, is to be honest with it all. If it came out of you, it needed to. And I hold to that creed with all.
So I am fine with being misunderstood, because it makes sense to me. And if it speaks at all to you, well, then, we are simply (and divinely) connected. Such connection is sparse, and I have been so blessed to have run into a soul-know-soul more than once. So now, with he knowing who he is, is my my Ode to O: thank you for black letters, and I will never give up on chocolate.
"Monica: My Mo:
CLOSE BUT NO CIGAR
you missed the essential
probably got your toes
curled so tight that you're
missing how the sand
massages and warms your sole (soul)
and mine
I don't appreciate you as much as I should
just more than you do
You see you in the guise of reality
I see you in the realm of potentiality
I see where the road leads
I know perfection, but when I am close
to you, I feel it.
It's like writing a melody and before
you put pen to pad you are already smiling and
bobbing your head to the rhythm that is to come
When I  am close to you, I am with greatness…
greatness and perfection ever evolving
The others, they see it too.
But it's like "Footprints in the Sand"
Hard for the mortals to know that they
are in the midst of greatness…
and even be carried by it…
at least until it's gone.
Your cardboard box is as perfect as any other
as secure as if it was made with brick & mortar
as consistent as the rhythm of raindrops
as sturdy as they come.
Your cardboard shell is only to cover
the velvet box that covers that satin pillow
that holds the perfect diamond.
Keep glistening girl, for I am not special
because I see your shine
you are special because you see it
and think that it's mine.
…
O:
white notes dripping
take that dream and send it packing, forward. through. behind. and most sacredly:
within.
my fear lies continuous, the absurdity and crime of people against people fails to ebb
and yet…
etch the world with new cave drawings – your own circles and crooked arrows and in a thousand years they will see our thoughts and try to distinguish, and then give up and call us homoerectus the second: unable to provide connected thought…
when in fact:
the fabric we use is woven in a separate place, a place where amoebas speak and matter is thought and a small village of men still look out
for me.
We are still connected, even if our drawings fade.
- Mo
Comments