Posted on | September 2, 2009 | 3 Comments
as written December 11, 2007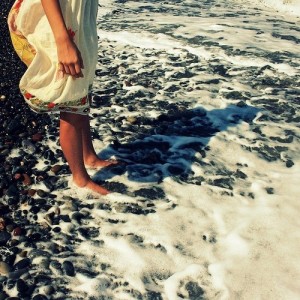 I dropped Brent off at detox this morning. I fought with the nurses to be notified if he tried to leave. I wanted my way and I got it. I hugged him as he walked away, and I walked out into the bitter cold and saw my hands shaking. I drove away without my husband. Walked into work and smiled at them all. Couldn't believe they didn't see an ice queen with nothing behind her eyes. How can you feel relief and like it's the end of your life at the same time? What the hell…
I can't put a finger on my life, I can't surprise myself with an occasional smile – it feels broken and obtuse, rusty and waterlogged.
I have come to the end of my pier. The water laps at my toes and my hair whips at my face. My clothes shudder against the wind, thudding with my heart. It is near winter, here, and the soles of my feet freeze gently atop the dark slickness of the rocks. My choice, now, is whether I want to leap off the land and start swimming. I will not be able to look back and see the beach anymore. I will not be able to stumble back across the stones in a moment of fear and cling to their hard surface, or hide beneath their shadows. I will be in open water, unable to stand, unable to see how far I have come or how far I have to go. I will have one choice – to keep swimming forward or drown, for there is no going back.
Do I have the strength? The question is, do I have the strength to keep standing still, undecided? The question is, am I going to abandon all the distance and race back, barefoot, to the safety of the sand? Or, am I going to find that when I give up all, that I am able to walk on water?
I lean forward, pressing against the wind on my tiptoes, bending to the tide…
Comments