Posted on | August 7, 2014 | No Comments
as read August 3, 2013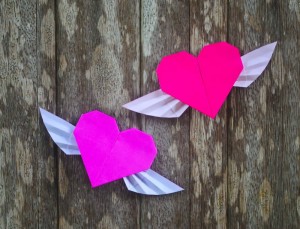 "Courage is very important. Like a muscle, it is strengthened by use. –Ruth Gordon
All of us fear the unfamiliar at times; and it's nothing to be ashamed of to occasionally feel frightened by everyday events. We can still forget that God is always with us and, thus, allow fear to take over.
We're learning in recovery, though, that we can empower ourselves through the magic of belief. Acting as if we feel that extra bit of courage and that we sense God's presence protecting us can dissipate our fears and bring us new confidence. In doing this, we will gradually come to know the inner resources God has given us. The more we acknowledge our courage, the more it becomes a working part of our life.
We often unnecessarily complicate matters by thinking we have to face things by ourselves. We forget that our spiritual program offers us ready relief from the terror of feeling alone. God offers us the strength and courage to meet each challenge. We only have to accept. I will remember God's presence today and discover the courage to face my fears."
In God's Care by Karen Casey
Posted on | July 25, 2014 | No Comments
as driven July 25 through July 30, 2013
First fail of the cross country road trip: never try to throw ice cream out the window going 65. #nonapkins #FAIL. #Boyfriendlaughing.
We drove south, then connected up with route 70 and headed to Denver. Where, we found that there were no hotel vacancies, like, anywhere. That happened in Kansas too, where it just so happened some car show had every single hotel booked up on the most endless, bare stretch of road ever.
After miles of faded orange signs, Kansas had us stopping at the Prairie Dog Town, where the "biggest prairie dog in the world!" lived. Along with 6-legged cows and other entertainment. The elderly gentlemen who greeted us grunted that "40% of people come back!" to which Nick looked at me with eyebrows raised, and asked, "What happens to the other 60%?!" I don't think he got it. But it made me laugh.

Missouri had my buying a legit pair of cowboy boots ("19,000 pairs!" yelling at us from the road), and this gem: Update from the cross country trip: innocently eating pizza after stretching our legs around the Arch, thousands of exuberant folk surround us on the World Naked Bike Ride. True story. #ThankyouMissouri. #StLouisLovesTheNudes.
Illinois, Indiana Ohio AND West Virginia had us listening to Ender's Game; becoming quiet zombies with our mouths hanging open. We couldn't believe four states flew by with us barely looking up. There's some definite magic about audiobooks when you're driving, seriously. Pennsylvania seemed long and endless before we crossed into New Jersey, and finally…New York! Where we stopped at a diner in Fuhgettaboutit (no joke) then promptly dropped Nick off a JFK to fly back to California for a work event. Then I found my way to my friend's place in Long Island, and finally, 2000+ miles and lots of laughter later…sleep!
Posted on | July 24, 2014 | No Comments
as written July 25, 2013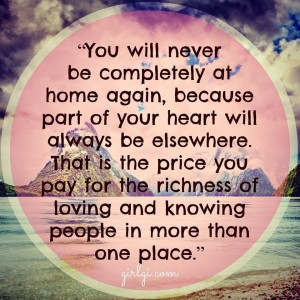 Today, I leave this place. I start again. I said all my goodbyes, got rid of so much baggage…boxes and clothing and furniture and paperwork and books and equipment and have shed the excess carried from an old marriage and five apartments and ten years. I watched so many of my loved ones come and try on my clothes, buy my furniture, load up their cars with my decorations, pillows, tables, scarves, jewelry, books, dishes, and vases. Surprisingly, instead of loss and grief I felt a deep sense of peace and appreciation for this. I love the idea of pieces of me living on in the lives and homes and hearts of my tribe. And so, I could let go of them to live new lives, harboring gratitude for all the joy I received from them over the years. But now was the time for letting go. And so, Nick flew in after his stuff was packed and shipped in California, and then we packed the remainder of mine in two small U-Haul pods, looked at my empty home once more, sighed, and turned over the keys.
As Nicholas and I pulled out of my complex, my phone beeped and a text from Adam came through. I breathed deep through his words, and couldn't have closed the door more perfectly on this place and people I have come to love with my whole heart. For all the things they have shared that I have done for them, they have also done for me.
"I wanted to try to express a couple things as your path leads you somewhere else but not away. I don't think I have ever been able to express the amount of love and appreciation I have for you. You taught me that the scariest thing that I've had to face is being seen in the robes of misconceptions of myself and being accepted and more so Loved. How could one love me in this place and yet you always did. You forced me to run around but never allowed me to run away. It was uncomfortable, actually it has always been HELL :), yet in your perfection you allowed it. All while facing your own robes with humble forgiveness. I have learned that in the kingdom of heaven there is not a special love, only Love, but in my understanding as it stands, there has been the appearance of special love and that is what I have for you. I feel honored and proud that I have a friend that I can truly say is perfect in her imperfection. You may never know what you mean to me truly but I will never stop looking for ways to express it. You were and continue to be a turning point in my life. I wish you the most beautiful life – full of the challenges you bring forth and the pure joy that You are. Continue to shine, Star. I love you."
Adam
And so. Wrapped in the bright robes of a new life, I begin again. "Behold, all things are become new." The open road awaits…
Posted on | July 23, 2014 | No Comments
as written July 24, 2013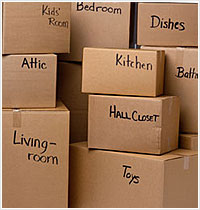 Six years and two months later, we end the W. era. And appropriately, she walked me through my anxiety and fear of learning to love a city I've never loved, forgiving it for its crime and danger and my own fear of feeling trapped without a way to escape. Also the feeling of being afraid all the time of something or someone about to hurt me – being hyper sensitive to everything around me, looking for a threat. She talked me through it, and made sense realizing it wasn't actually about NYC , but what was really going on beneath the surface was that all my security is virtually being let go of (job, friends, home, state, etc.). Afterward, I felt calm and some small anxiety, but I know I have the tools to do this. I just have to use them.
She filled me with love hope and understanding, and I realize now that therapy was a spiritual exercise for me, where I filled that vacillating well every month. I am so grateful for the past six years of lessons to teach me how to move through grief, and how to look at my circumstances with skill and understanding instead of just self-pity and codependency. I am so grateful for the blessing and miracle of W. in my life and that surely God's hand was in our meeting back in 2007. I am so humbled and grateful for the windows and doors she helped me open so that I might communicate with my own spirit and find our knowledge, balance, communication and ultimate empathy and understanding between me and the eternal self that resides inside me. I am so grateful for the constant source of support, and of the liaison she was between myself and the Heavenly Family I so desperately needed to come to know on that intimate, meek and open manner in which I so uncomfortably found myself in. I am eternally grateful for W.'s presence in my life; her reliability, her depth, her spiritual gifts that helped me hone my own, her willingness to learn from me as well, our camaraderie and friendship whilst traveling the complicated, confusing, imperative lands of my heart. In all my states, W. has been a mentor and guide and support system for me as I traversed these last years, and so much of what I can offer others stems from learning from her own experiences and service she has rendered me.
What is now inside me, I will take for an eternity. For that, among so much else, I kneel before God and give my deep, heart-felt gratitude today. Please, bless her with that which she stands in need of, and help her to know she will always have a sister and friend in me. Thank you. Thank you. Thank you.
That was just some of the deeper things I got to do while purging my entire life…because in my garage and my apartment contained every material thing I own on this planet. From my birth forward; since I cleaned out my mother's attic of my childhood / teenage things after I got married, and since after the dissolution of my marriage all of that just moved with me as well without being sorted through — this was finally the time to do it. And even starting @ 7am each morning and often going late into the night, AND minus any diddling that may have occurred — it still took me ten full days plus some help from Jes, Hailee and Adam and Nick to get it finally done.
The interesting part was that I had no qualms of letting go of things — it wasn't hard for me (like I thought it was going to be) to just purge and purge and purge some more, letting all these 'my' things become someone else's, or trash. When I came across my Temple Marriage Certificate, there were no more emotions to feel about it. It was done and I was done feeling anything more about it – so it could go in the trash as easily as my old IRS taxes. So did my wedding videos, and most of the albums. I kept only one small album as a record of that time in my life — it's important to. I don't need to erase my past, but I don't want to carry anything extra that I don't need to.
As I filled bag after bag after bag, sometimes the trash bags were so heavy I couldn't even carry them down the three flights of stairs, let alone heave them over the lip of the big dumpster. I got more cuts and bruises and sore hands and limbs than I could remember. But the chance to clean house doesn't always come this thoroughly, and I knew I needed it. I was no longer carrying the emotional pain of these things I have gone through, but I was still carrying the weight. And I knew that by the literal weight of the bags and boxes I heaved from hidden closets and garage to their demise, I didn't need to carry the weight anymore. I don't need to. I don't need to. So I won't…
And I didn't. Over my head they went, in clouds of ancient dust and cat fur and dog hair and memory. I don't need to keep the weight of these things in the closets of my mind or in the attics of my heart…they don't need to be stored anymore. All the emotion and feeling and grieving has been sucked dry, all that's left is the corpses of my experiences, but bones still have weight – and I don't need to carry it anymore. So I didn't. I got rid of most all of it. I keep only the things I love, and things I need. All else went. Isn't that how life should be, anyway?
Across the country lighthearted and light-weighted, here we come!
Posted on | July 21, 2014 | No Comments
as written July 23, 2013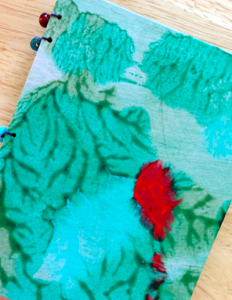 The last part of my Yoga Therapy Teacher Training included a capstone one-on-one session with Carrie – and as a goodbye, a soul-deep thank you, I presented her with one of the books I made, with wood (rooting) on the outside and plexi gass technique (veins and internal heart) on the inside. I wrote a copy of the ode to my mother mountains and a thank you to her.
We sat in her zen room and I shared many things with her: The fear of not being good enough, of doubting…being good enough for Nick, for NYC, for consulting for work…and shrinking the fear down as the energy twirled and danced and grew inside me in front of her.
"And there is your work." She spoke when the silence stretched after the last deep breath of my wordy offerings. She is right. My spoken fear is my work – clear as day.
"Every day," she said, "Write these things. Make them your mantra:" I am enough. My only job is to BE it. Raise my voice when speaking about the intuitive powerhouse side of me. I belong.
I do not need to go through every single box I own before I move. I do not need to leave every single thing behind — that maybe I'm supposed to take some work with me…and that's okay. I do not have to do it perfectly. I can leave some things in boxes to go through at some other time. That felt like relief to me to hear and internalize. The heaviness lightened, I…lightened. I felt buoyant and she told me it was okay to need her, and that she would be there for me, only a phone call away. Thank you, for her beauty and courage and graciousness.
She led me through breathing, through the oceans and mountains inside me, my breath took forever because I have so much room. I am making so much room…and this letting go of things that I am letting go of? The pounds and pounds of paperwork and work and ruin and history? They were still walls because I was still carrying it in my heart. Healed or not healed, I was still carrying them. So every time the THUD of another garbage bag of trash hits the bottom of the dumpster, my heart and lungs lighten immeasurably.
And in that space…suddenly…Nick moves closer inside me. I love him so much it hurts now…the good kind of hurt. Where the holy and tender places so deep inside are welcoming him in, as he moves gently and softly through. Within. To me. Where I choose to allow him. All these things, are good…and I am grateful. And I give thanks.
keep looking »